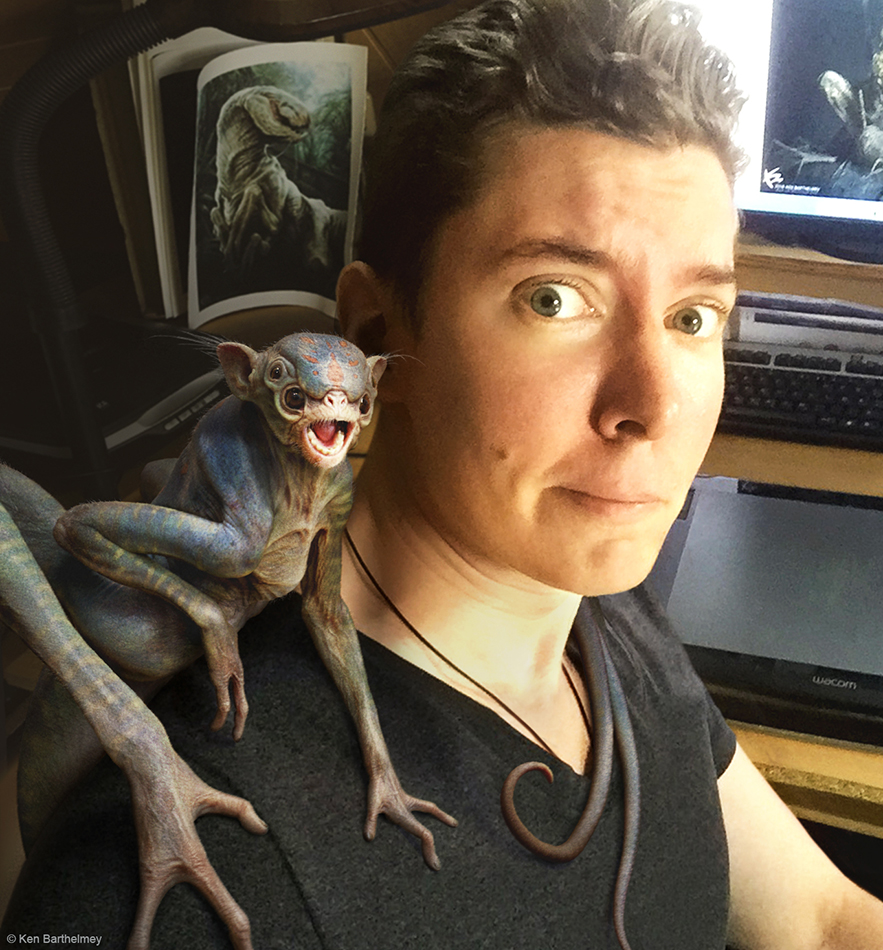 KEN BARTHELMEY
Expert in Creature & Character Design
Ken is a freelance Creature and Character Designer, working professionally since 2011. In 2012 he got his first big design job on the film 'The Maze Runner', directed by Wes Ball and produced by 20th Century Fox. Since then Ken has completed creature designs for several other popular film productions and is currently working on his own IP project.
Born in Luxembourg, Ken started drawing and sculpting at an early age. He has always been passionate about art and all creative things in general, which made it very easy for him to teach himself by practice.
Especially movie monsters had always fascinated him. Films like Jurassic Park, Star Wars and Aliens had a huge impact on his life. Leading him to his profession today as a Creature and Character Designer.
Ken always pushes himself to create authentic and unique designs. To reach that goal he invested a lot of time in studying the anatomy of animals and humans. Quality is very important to him. Whether traditional or digital media, he constantly tries to advance his techniques and skills.
AWARDS

In 2013 he was honored with the Chesley Award for Best Magazine Cover Illustration, announced and presented by ASFA at the 71th World Science Fiction Convention in San Antonio. His work has also won several other awards, such as the CG Choice Award, 3DTotal Excellence Award, CGArena Excellence Award, CG Gallerie Award, The Golden Eye, The Golden Topia Award, and Infected by Art Gold Award.
MEDIA
Oil Painting
Watercolor
Airbrush
Pencil
Pen
Clay
SOFTWARE
Adobe Photoshop
Adobe After Effects
Luxology Modo
Pixologic Zbrush
Luxion Keyshot

---
FREQUENTLY ASKED QUESTIONS
What is a typical pipeline you go through as a concept artist, after receiving an initial brief for a creature?
I always start with very rough scribbles. I do these mainly for myself in order to get ideas and to find a specific look. After that I start with more detailed pencil sketches which I present to my client. If a sketch gets approved I start enhancing the design and colour it in photoshop. However in my recent jobs, I immediately jumped into Zbrush after the approval. Zbrush is a fantastic and very powerful tool, I always enhance my designs when I work in 3D.
How do you strike a balance between making something look 'cool' versus something that is believable?
If you design a creature too 'cool' or fantastical, it will look unbelievable and silly. And vice versa. If you make a design too realistic, it will look boring. In order to make a good design I think it's important to have a good taste of realism and imagination. I love seeing an actual anatomy in a design, even if it's mechanical. Using reference photos from real animals is always a great help to accomplish that.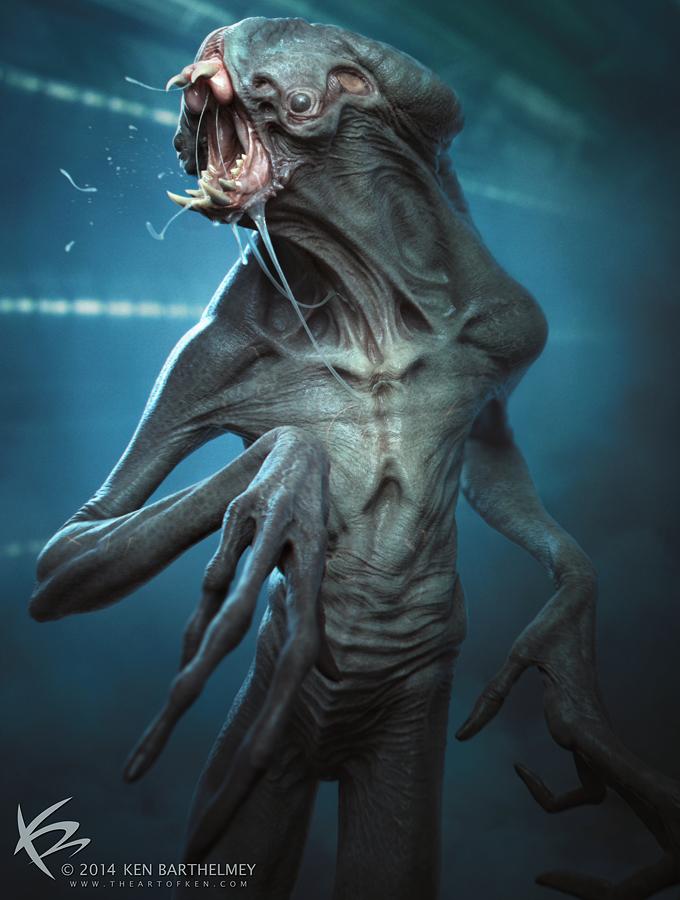 B

esides creating believable anatomy, what else do you consider while creating a

creature?
I always consider creatures as characters. Even bloodthirsty beasts with long teeth should have their own soul and backstory. What is its motivation? What is its goal? What evolutionary functions does it need in order to survive... The more thoughts go into a design, the better the result.
How long does a typical design job take?
That's very difficult to answer, since it depends on many factors. I like to have a fixed deadline from my clients, that way I can easily structure my working process. Depending on the project, this can range from one day to six weeks or even more. I like to have at least one day for sketching ideas and additional 1-2 days for a beauty render. A complex creature with over a thousand arms takes longer, of course, than a simple blob creature.

You are an artist who likes working with pencil, why?
It's a great and fast way to present early ideas. Working with traditional tools has a different feeling. For me it's the first meeting of the image that I had in my mind. I was fortunate to work with very creative clients who immediately saw the potential in early sketches. Sometimes however it can be difficult to judge an early pencil sketch. So presenting ideas in a compelling way is very important. A sketch should never be seen as the final design thought, it's only the first brick in the wall!
Where did you go to study?
I didn't go study, I learned and never stop learning by practice. There are basically no rules in art, when you understand the fundamentals you will improve your skills at every work you do. I created my own ways and techniques, that's a priceless practical knowledge. However, I can only speak from my experience. There are many great art schools out there, which are totally worth to attend!
How do you spend your free time?
Besides my jobs I also love to work on my own IP projects, which I'm trying to publish in the near time. It's extremely enjoyable for me to come up with stories and designing complete worlds. It's a great way to recharge my creative batteries. When I'm not stuck to a computer screen, I'm doing sport and watching films.
Do you have any advice for students? What makes a good Artist/Designer?
You shouldn't have dreams, you should have goals! Simply follow your passion, you can only do the best work when you are motivated. You don't need expensive softwares in order to make art, start with pencil and paper and learn the basics.
From the technical side, I think everyone can learn how to paint. It's all about how hard you are working on your skills and how disciplined you are. But what a good Artist/Designer marks is creativity. Creativity makes every artist unique; you need to be able to come up with singular ideas and solving problems in the easiest way.