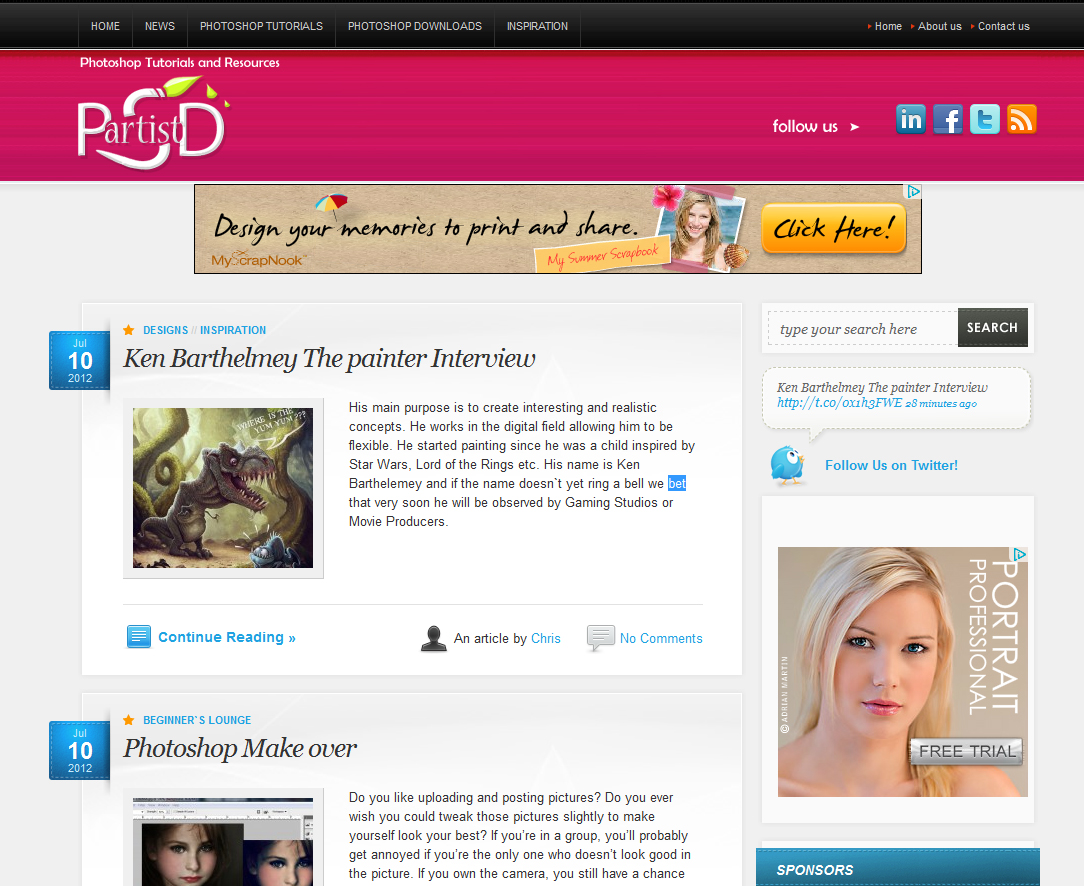 PSDartist.com made an interview with me. Read the full interview with some works on theirs homepage. Check it out!
Interview:
His main purpose is to create interesting and realistic concepts. He works in the digital field allowing him to be flexible. He started painting since he was a child inspired by Star Wars, Lord of the Rings etc.
His name is Ken Barthelemey and if the name doesn`t yet ring a bell we bet that very soon he will be observed by Gaming Studios or Movie Producers.

You will find below an interview with him and his work. You can find more of his works on his official webpage or his YouTube Channel.

1) Before we start the interview I would like to thank you for this opportunity. Please tell me when and how you got interested in illustration and art?
Thank you for the invitation! Well I'm working as a professional freelance artist for 7 month now but I started painting since I was able to pick up a pencil. I have always been passionate about art and all creative things in general. I taught myself how to draw, by observing tutorials from the web or magazines. I think I always had a passion for that…
2) What inspires you? What artists and illustrators do you admire?
Books, games and movies are great inspirations, but the earth and nature is the greatest inspiration ever! I google every day to find interesting animals and places to fill my brain with new ideas. My favorite artist and illustrator is Frank Frazetta. I love his style, all his works are extremely dynamic and significant.
3) How did you discovered your style ?
I always try to bring very much realism and authenticity into my concepts and illustrations. I'm simply a detailfreak, I love painting small details like the texture of a skin for example. Thats also the reason why some of my paintings look so photorealistic. Many people who see some of my works think that I work with a 3D software, but everything I do is 2D. Thats very funny.
4) What was your greatest project ? The one you loved the most to
work on ?
I think that was the picture 'Where is the Yum Yum????" because I didn't do any preparation, I just painted it in impulse. Before, I posted the simple sketch on my facebook-page and became a good feedback, so I decided to paint it out. But every new painting I'm working on makes me very fun, because every one is unique and I always learn something new.
5) Name some websites you browse everyday.
Actually I show my portfolio on itsartmag.com, cghub.com, cgsociety.com, and deviantart.com
6) What are your hopes and dreams?
I haven't dreams, I have goals! My goal is to work on big movie blockbusters and to see that my creations become to live and run around the screen.
7) Thank you for this opportunity , tell something to the art-fanatics
here on PSDartist.

Thanks for reading and never break to have fun to paint! If you want to see more of my works follow me on Facebook or visit my Homepage